Drools Real Chicken Creamy Cat Treats 15pcs (1 jar)
Product Description:
Introducing Drools Creamy Treats – the perfect blend of nutrition and bonding for your furry companion! Packed with high-quality protein, these delectable treats are designed to enhance the well-being of your pet in more ways than one.
Nutritional Value:
Crude Protein (Min.) 5%
Crude Fat (Min.) 2%
Crude Fibre (Max.) 2%
Moisture (Max) 85%
Key Features:
High-Quality Protein: We understand the importance of providing your pet with the best nutrition. That's why Drools Creamy Treats are enriched with high-quality protein, promoting strong muscles and overall vitality.
Easy to Hand Feed: Strengthen the bond with your pet by hand-feeding them these delightful treats. The convenient size and texture make it easy for you to engage in interactive and rewarding moments with your beloved furry friend.
Creates Better Bonding: A treat that not only satisfies your pet's taste buds but also fosters a stronger connection between you and your companion. Sharing these moments of joy and deliciousness helps build trust and affection.
Higher Moisture for Easy Acceptance: Drools Creamy Treats boast a higher moisture content, ensuring easy acceptance by even the pickiest eaters. The tempting texture and moisture-rich formulation make these treats an irresistible delight for your pet.
Directions to Use: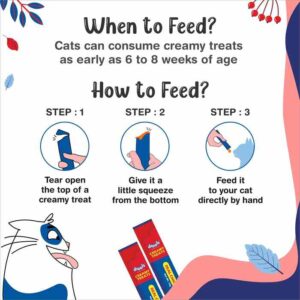 Tear and open at the top of the Drools Creamy Treat pouch.
Hand-feed your pet with these tasty treats to create memorable bonding moments.
Store in a cool and dry place, away from heat or direct sunlight to maintain the freshness and quality of the treats.